Since Princess Belle has been working on fractions, I was excited when
ScienceandMath.Com
gave me the chance to do a review of
Mastering 5th Grade Math – Volume 1 – Essentials of Fractions
. Up until this year, math has been a real struggle for Princess Belle and so I am always on the lookout for new ways to help her understand math better. And the idea of
ScienceandMath.com
offering a variety of Math and Science DVD's to help you teach and reinforce specific areas in both of these subjects really sounded good to me. The fact that it arrived right in the middle of our unit on fractions was perfect timing for us!

I received the physical product of
Mastering 5th Grade Math – Volume 1 – Essentials of Fractions
. This included a DVD package of 2 cd's. Disk one includes the lessons to play in your DVD player and has step by step lessons and instructions for the 16 lessons. The second disk has the lesson worksheets and answers key.
This Video Series is suggested for use with grades 4th-6th. The cost is $15.99 for a 2 set DVD. The second DVD contains all the lessons in mp4 format in addition to printable worksheets in PDF form. There is also a downloadable version available for $14.99. Both DVDs can be played in any player (mac, PC or DVD player) that is capable of playing a DVD.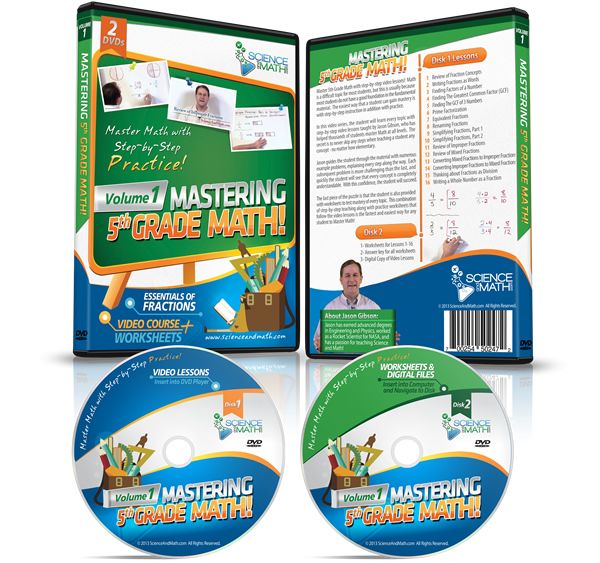 We found the instructor, Jason Gibson, to be great at explaining and breaking down the steps for each concept. And he really gave a complete and clear understanding of the idea of fractions in the 16 lesson DVD. This made things a lot easier for Princess Belle to understand. As we approached the lessons which included topics like: writing fractions as words, finding factors of numbers, finding greatest common factors, improper fractions, mixed numbers and more.
Each lesson has an accompany worksheet, which can be found on the second DVD.
The worksheets are colorful and clearly laid out.
To experience every aspect of this lesson, be sure to check out the
worksheet!
We made these lessons a part of our morning math lessons since we were already working on fractions. Belle is easily distracted but she did really well listening to the DVD and staying focused. I really feel that the short time frame helped with that. I also think that the way Jason even uses different colored markers for the various parts of the math problems helped to make things clear for Princess Belle. His manner of teaching made her feel confident and capable.
When doing our lessons, we inserted the DVD in the computer and watched it together. Then I printed off the worksheets for that lesson. Princess Belle found the explanations very clear and was very quick to grasp the concepts , so I didn't find it necessary for her to complete every single problem on the worksheets, but it was good to have extras when she needed a little more practice.
I really like this program. I think it helped to give her a firm grasp on fractions.
I loved that Belle seemed to enjoy the lessons. The price is great too, especially for something like this that I feel is a huge value. I really think that this product is not only great for homeschoolers, but it would be a fabulous resource for any math tutor who wants to help kids in a regular classroom that just need extra math help.
You can actually receive the first lesson in this series
FOR FREE
! Now that sounds like a great way to check the whole thing out.
You can also
find ScienceandMath.com on Facebook
.
My Crewmates had several different options of video courses to review. Please make sure to stop by and see what they thought of their lessons: