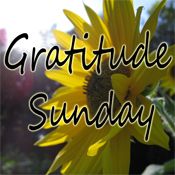 Sunday's heart felt tradition. A time to slow down, to reflect, to be grateful.
Here are some things I am grateful for this week:
Prince Charming being out talking to a neighbour and he saw something sitting in the discard pile that he knew I would like and asked the neighbour if he could have it. I LOVED it. It was this lovely bottle. I LOVE older looking things. I love things with history. I love things that look like they belong in a rustic setting.


Before cleaning it:


After cleaning it up:




The sweetness of a little girl (Princess Magpie) who loves having a baby brother so much that she doesn't want him to grow up. She asked me, "Mommy? Can I wish for him to be smaller again?"

Having a big daughter who loves playing with her sisters and helping with her brother, but at the same time loves having tea and going for walks with me

Coming up with a two part plan where I will move out of the this terrible situation and move to the country here in Nova Scotia (where the rent is cheaper, the houses are bigger, and there are fewer scary neighbours and criminals to contend with) but we will save up money and try to move to Ontario where the homeschooling laws are better at a future date. It sucks to have to move twice, but at least it means I can look forward to a time where we will be free from the coming new regulations and will be able to relax and just concentrate on homeschooling and raising our babies. But at the same time, I don't have to live here where the situation is so intolerable.

Warmer weather that sees our snow melting, our kids longing to play in the warmer weather and neighbours coming out of hibernation once again.

Making the decision to put my scales away for a full month. I am going to eat healthy, not cheat, but no freak out over my scales or weigh myself twice a day. I will not measure my success by the numbers on the scale but by the effort I put in.

Fun thoughts and preparations for Easter, St. Patrick's Day, and my baby boys first birthday. Glad that we do those things as a family so that I can enjoy them without stressing about other people.