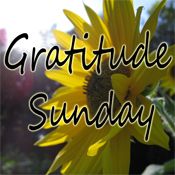 Sunday's heart felt tradition. A time to slow down, to reflect, to be grateful.
My list of gratitudes for this week:
a lovely friend from Australia, who never fails to make me smile
a best friend who calls me just when I need to hear from her.
children who get excited over the food I prepare
children who love to play with each other.
the smell of fresh bread baking in the oven first thing in the morning
a crockpot filled with supper for this evening
rain that is melting all the snow and maybe heralding the coming of spring some time soon.
A baby boy whose favorite pass time is watching his sisters while bouncing himself to sleep in his bouncy seat.
A fun feast to celebrate the Chinese New Year and our studies of China.
A fun day celebrating Valentines Day together.
Quiet evenings with Prince Charming, stretched out together watching our shows.