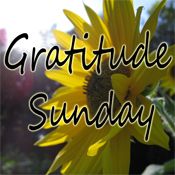 Sunday's heart felt tradition. A time to slow down, to reflect, to be grateful.
My list of gratitudes stems from the cold snowy day I see outside my window today:
hot coffee
a warm house
a full pantry
nanny-knit wool blankets
happy, healthy children who are content to spend their days together playing in the living room and their bedrooms.
the countdown to a new and better home in the country.
a house smelling of homemade stew and biscuits.