I was really excited when I recently given the chance to read and review the book
A Life in Balance
by Frank Belgau and his son, Eric Belgau, and distributed by the
Learning Breakthrough Program
.
. As a homeschooling mom with special needs children, I am always looking for ways to better teach my children, ways to fit my teaching into their learning styles. The Learning Breakthrough Program is an alternative treatment for those who suffer from dyslexia, ADHD and other learning disabilities. You see,
"
A Life in Balance
" is a wonderful read, centering upon the memoirs of Frank Belgau, the man who actually developed the
Learning Breakthrough Program
. This account was as told to Eric Begau, Frank's son, who wrote the book based on all of the things his father told him.It is currently available for $16.94.
The story tells of how Frank Belgau developed his brain training program. Frank Belgau dedicated over 30 years researching, learning through trial and error, to develop a program that has changed the lives of thousands of children who have suffered from learning disabilities, attention disorders and other problems that interfere with learning. He spent 10 years in the Air Force before becoming a teacher. After a short spell in a normal classroom he was asked to teach students who had been labeled as educable mentally retarded students. He was inspired by many of these so called "unteachable" children, as despite their limitations, they were extremely willing to learn. The North Shore Students were such an inspiration. Frank with these North Shore Students Frank proved that you cannot expect children to want to read if you do not offer them reading matter that is of their age and interest level.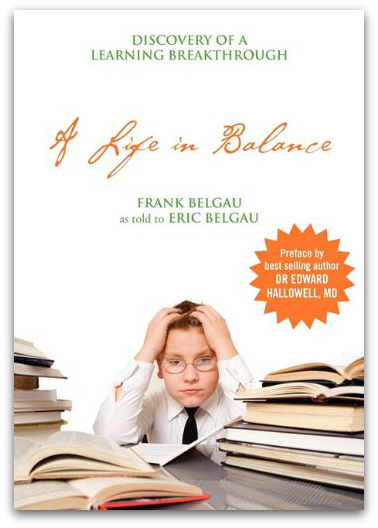 As the mom of a daughter with Autsim and a baby boy well on his way to a diagnosis of Autism, I am always interested in learning more about natural helps for children who have a different way of learning. And I love that this program has proved valuable to people who have different learning abilities like ADHD, Dyslexia, Autism Spectrum, Sensory Processing disorder, and many others. The program describes the brain training method as aerobics or weight lifting for the brain. His program uses different physical activities to help the brain and the body develop and work better. Frank in a way connected the dots over his lifetime of how the brain and the body are connected when it came to intelligence. He researched and tested different ways that he could help the brain and the body really connect better, and in turn work better.
I found this research and system fascinating. The book is easy to read. The chapters are short and it was interesting to read. I really think both average learners and learners with special needs could benefit from his program and the book is appropriate for all parents and teachers to read. It really reminded me of how important it is to get my kids outside and moving throughout the school day - and emphasized
why
that is so important! You can get this awesome book for $16.94 through the
Learning Breakthrough Program
.
This book has definitely sparked an interest in me, I will continue to research this program.
Check out what others thought of this book by clicking on the link below.
Follow
The Learning Breakthrough Program
on Social Media
Facebook:
https://www.facebook.com/LearningBreakthrough
Twitter:
https://twitter.com/LearningBreak
YouTube:
https://www.youtube.com/user/LearningBreakthrough