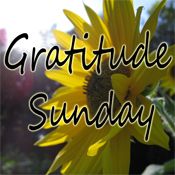 Sunday's heart felt tradition. A time to slow down, to reflect, to be grateful.
Here are some things I am grateful for this week:

1. Summer evenings on the deck


2. Cute nephew Rock n' Roll shows

3. Fun at the park

4. Walks with my family

5. Cute nephews who want to push their cousin in the stroller


6. Relaxing on a warm summer day.

7. Silly girls who never fail to make me laugh.