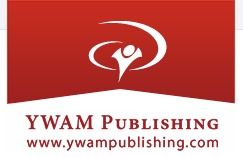 George Washington: True Patriot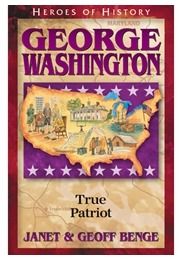 Princess Belle is really enjoying learning about George Washington. We didn't know a lot about him and this book was a wonderful resource for us, it also covers a lot of information that I had never heard before about this great American hero. The George Washington: True Patriot book tells of George Washington's life story in an interesting narrative format. It includes his childhood, his family background, his rise in ranks as part of the Continental army until becoming the first president of the United States of America. The book was written by Janet and Geoff Benge a husband and wife writing team. With over 20 years of writing experience they have a passion for making history come alive for young readers!
This book comes in paperback edition and consists of 224 pages. It is ideally written for ages 10 and above. If you want the digital edition, you can purchase it in Audiobook format, Nook edition, Kindle edition and PDF format. You can get it from YWAM Publishing.
Regular Price: $8.99
YWAM Price: $6.99
Recommended for ages 10 and up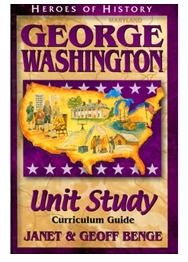 George Washington Unit Study Curriculum Guide
I really enjoyed the fun ways to incorporate learning about George Washington that this unit study provided. It includes chapter questions and also provides opportunity for further investigation into the life of George Washington. With four kids in my house sometimes I am a little distracted and having the answers provided was really useful to me.
The guide also includes: key quotes, community links, social studies, books and resources and more. The guide also contains countless activities which make learning fun and references which can be done by both individuals or groups. It also included fact sheet, mapping activity and timeline activity. Activities include drama making, creative writing, arts and crafts work and audio visual projects.
The paperback edition of the unit study guide consists of 64 pages. It is also available in audiobook format and in PDF format.
Regular Price: $9.99
YWAM Price: $7.49
Recommended for ages 10 and up
For us, I alternated with Princess Belle getting her to read one day and me to read the next. We would read the questions before we read the chapter, and then we would discuss them afterwards. Afterwards we have fun exploring the other suggested activities such as creating a Pro and Con Lists from George Washington's point of view, one in favor of him running for president and one against, hosting a tea party that seemed to be from that time period, and other crafty fun. The Display Corner was something that Princess Belle really enjoyed.
Where to buy:
George Washington: True Patriot costs
$6.99 for either the paperback version or a digital copy (Kindle edition or Nook edition). The George Washington Unit Study

costs $7.49 (only available in paperback format). For a full list of all the

Hero

Biographies click here. Audio book options are available as well!

Click here
for more YWAM reviews (there are two different titles) from the
The Schoolhouse Review Crew
.