Recently, I was really excited to be offered the opportunity to review
The Homegrown Preschooler: Teaching Your Kids in the Places They Live
through the TOS Review Crew! With a 3 1/2 year old and a newly 5 year old in the house, I am always on the lookout for good ideas to use with them. This 204-page beautiful, FULL COLOR, soft cover book is a WONDERFUL resource! I so am COMPLETELY impressed. This is VERY NICE resource for instruction and encouragement for moms of preschoolers.
The Homegrown Preschooler
is available from
Gryphon House
for $29.95.
The Homegrown Preschooler
by Kathy H Lee and Leslie M Richards is a large, colorful paperback book of ideas, tips and tricks for using everyday objects to teach preschoolers. I really enjoy how the authors use their combined early childhood and homeschooling experience of over 20 years to inspire you to take advantage of learning experiences that take place in everyday life, to take advantage of learning opportunities as they arise.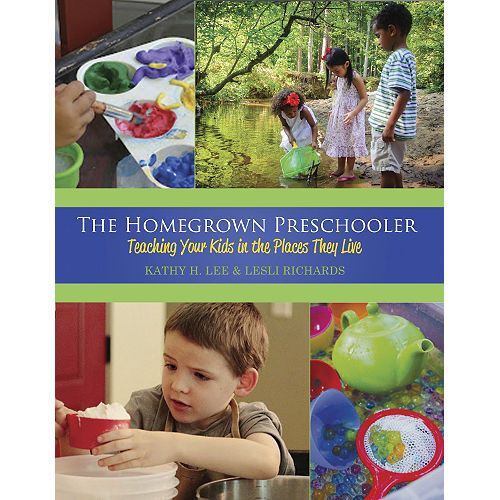 The book is divided into two sections: the first consists of nine chapters on the preschooler learning at home covering a variety of topics from learning through play, to making time, organization and managing in special circumstances. It covers a variety of activities such as home life, fine motor skills, and sensory fun. This book doesn't only contain tips for teaching your child but includes recipes, real-life experiences & even worksheets to help you get started. Or alternately, the book finishes with 80 pages of activities and really cool ideas, that you can have for them. I really like that there are some activities that are young for Princess Snifflefritz (good for 2-3 year olds) and some that would be great for Princess Magpie (Kindergarten / First Grade aged kids). I also like that most of the activities involve making homemade things with things you normally already have at home.
All in all, I have to say, I LOVE this book. Its beautiful, is a quality resource, and the content is awesome. I have been enjoying the activities and I can see many days in my future taking further advantage of all the wonderful ideas to be found in this book!
About the book: