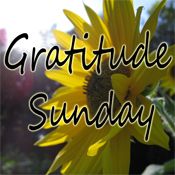 Sunday's heart felt tradition. A time to slow down, to reflect, to be grateful.
Here are some things I am grateful for this week:
1. The sound of rain hitting our room while I sit warm and dry drinking a cup of coffee, listening to my children play.
2. Saturday afternoon visits with friends.
3. Living in a quiet, friendly, neighborhood where everything is close by.
4. Birthday party fun with friends and family.
5. Prince Charming laughing and playing with his girls
6. beautiful sunsets while I spend time with my Prince Charming in the backyard.
7. Family BBQs