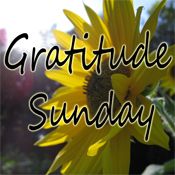 Sunday's heart felt tradition. A time to slow down, to reflect, to be grateful.
Here are some things I am grateful for this week:

1. Friends who come by and help Prince Charming put together a BBQ
2. Relaxed, afternoon BBQ's with friends.
3. Sunny days with the kids running back and forth playing and having a blast.
4. Getting the classroom almost together so we can start back to homeschool.
5. Prince Charming helping me so that I can make a BIG chalkboard for our classroom. I am so excited by this one!
6. Weekend days where Prince Charming is home and we get to spend some time together and I get to do some much needed running around.
7. Living in a house that is so close to everything that I can walk everywhere I need to go.
8. Text message chats with Prince Charming while he is working. We just do quick little messages and spend some time talking, flirting, laughing, being silly. It's kind of fun.
9. Friends who surprise you with Timmy's coffee just when you need it!