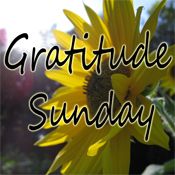 Sunday's heart felt tradition. A time to slow down, to reflect, to be grateful.
Here are some things I am grateful for this week:
1. cute babies who love to spend time outside
9. Finally having a house lined up to move into.
10. Children who are excited by simple things in their snacks like baked goods, milk, apples, and salad.