Recently, I was happy to be given the opportunity to review
Happy Kids Songs Workbook: Hands-On Activities to Build Character, Social And Emotional Skills
(Retail price $13.95, currently available for $12.56)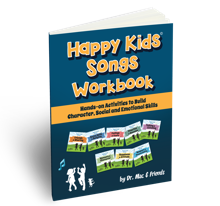 from
Happy Kids Songs
. Additionally, I received 15 songs total as music downloads from three of their eight available CD sets. The music is by Dr. Mac and Friends and are sung by children and adults. Each set is available for $4.95, or .99 per song: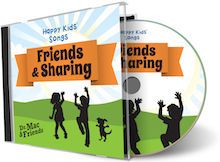 Friends and Sharing
(Set 1)
Happiness and Attitude
(Set 5)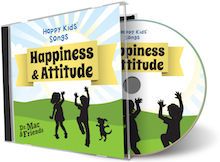 Manners and Character
(Set 6)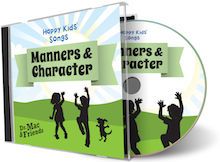 The book and CDs are geared toward children ages 3-8, but don't be surprised if children 0-9 also enjoy them. Since, they are music and my family is very musically oriented even Little Prince and Princess Belle enjoyed them! And since social skills are an issue in my house, I love these!!
It was easy for me to download the music and then play the songs while I worked around the house. The girls would listen to the music, sing along (loudly and enthusiastically LOL) and even dance a little.
Happy Kids Songs
is a product that is truly aptly named, because the three downloadable MP3 sets I received, indeed, contain quality, upbeat music to teach social and emotional skills to children from three to eight years old. They have produced eight albums covering a variety of topics such as talking, listening, bullying, fears, sharing, happiness, attitude, and more.
Some of the songs are sung by grown-ups and some by children. Each is only a couple minutes along with clear, easy-to-sing along with lyrics. So my girls could understand the message of the songs while enjoying the fun of music. Since my little Princess Magpie is a thinker, it was fun to hear and be a part the conversations inspired by the songs.
The approximately 80-page workbook was really fun and had activities that corresponded to the songs to reinforce the lessons learned about character, friendship, manners, sharing, talking, and listening and more appropriate social behavior and socialization skills. The workbook covers all eight albums, including a total of 40 songs.
Happy Kids Songs is on
Facebook
,
Twitter
, and
YouTube
.
Overall, this was a success in our home, I loved that the tunes were catchy and stick in your head, I love the lessons and I enjoyed the conversations they inspired.
Happy Kids Songs are available to download for $4.95 per album (or $0.99 per song). The Happy Kids Songs workbook has a retail price of $13.95 (currently $12.56).
To decide if the songs are a good fit for your family, we'd recommend listening to the
samples available here
and signing up for the
free song and activities here
.
Many of us on the TOS Crew reviewed Happy Kids Songs. Check out what others thought on the Review Crew Blog.