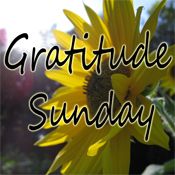 Sunday's heart felt tradition. A time to slow down, to reflect, to be grateful.
Here are some things I am grateful for this week:
1. Good friends who help us Celebrate Princess Belle. It is good to be able to count on friends to make your kids feel special.
2. Finding a way to make her cake look special even though the icing bag broke when I started to decorate the cake.
3. Having a girl who feels like everybody loves her and is already making plans for her and her best friend for her 13th birthday.
4. Making yummy food for my family which lasts for two meals and makes everyone happy.
5. Having a family that loves my food and makes me feel like a good cook even when I feel like I am being slack. LOL
6. A nice warm house when it is windy and raining and yucky outside.
7. A baby boy is learning to walk up stairs while holding our hands. And big sisters who get excited to see him doing it.
8. Enjoying a nice hot cup of coffee early in the morning in the quiet of the house before the little's get up.
9. Clearing out a corner of my basement, it feels good to get things done.