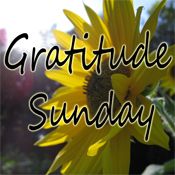 Sunday's heart felt tradition. A time to slow down, to reflect, to be grateful.
Here are some things I am grateful for this week:
1. I love how much we are enjoying our homeschool right now. Princess Belle is even doing good in math. We are having fun every day and it is great.
2. I like how our Oak Meadow Curriculum is divided up into work to do for the week. It gives me a goal to achieve but also gives me the freedom on how to get there. I love the relaxed pace we are taking.
3. I am thrilled that Princess Snifflefritz has passed one section on her Autism testing. So far she is a perfectly normal three year old with some pronounciation issues. Woohoo!
4. I am glad that even though it was cold, we had fun going out for Halloween. It was a good night. Even if we did WAY over-buy on our treats to give out.
5. I am glad that I didn't gain weight over Halloween even though I did over-indulge in treats.
6. I am glad that Princess Belle and I have started doing her school before the girls instead of after. We get it done while she is fresh and alert and we start our day by achieving a goal, she has fun participating in the fun stuff for kindergarten with the girls and then the rest of the day is free to get other things done. It has set a whole new pace to our days that we are really enjoying.