I've had the privilege of reviewing SuperCharged Science
for the past month or so. I reviewed the k-8 program. When we found out we would be reviewing the
e-Science program
from
Supercharged Science
, Princess Belle was really excited. She loves all things science so this was really up her alley.
Supercharged Science
is a company started by Aurora Lipper, a mother, NASA rocket scientist, pilot, university professor and enthusiastic teacher. When teaching at Cal Poly, she realized that her incoming students did not have a solid science background, and worse, had no passion or excitement for science. Her love of, and passion for, science led her to create a program designed to get kids excited about science. Her
e-Science
program is a complete online science program for grades K-8.
For review purposes, I was given access to all the Study Units available in the e-Science program. Study Units contain overview videos, text to read, and many experiments for the child to complete. The idea behind e-Science is to get the child's interest first, so you're encouraged to start with the demonstrations and experience to hook the child and get them interested, and then dig deeper into the subject matter. If you have questions, you can call or email for help and they'll get right back to you.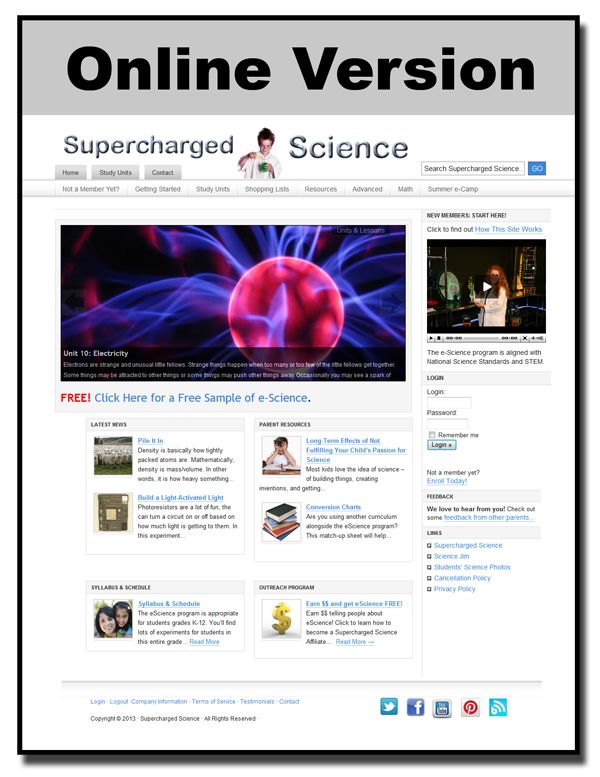 Vendor Information
Vendor:
SuperCharged Science
.
Program:
e-science
Cost: $37.00/ month for the K-8 section and $57.00/month for the 9-12 section.
What it contains:
Access to self-guided lessons
Detailed video instruction taught by a real Rocket Scientist
Step by step videos to show how the experiment is to be done
Comprehensive parent/teacher guides
Textbook readings
Exceeds most K-8th State Standards
Exercises and Quizzes
Unlimited support for teachers and students
Nine steps the e-Science program provides in their detailed lesson plans:
Unit Description: This answers the "What is it?" and "Why should I care?"
Outcomes/Goals: What do you want the students to learn?
Objectives/Highlights: Detail the key concept and topic into chunks.
Introduction: How will you present the topic to the students?
Development: This stirs up interest and gets students motivated to learn.
Practice: Bringing the key concept to life.
Further Study: Answering questions and gaining momentum.
Evaluation: How well did you teach and how well did they learn the material?
Closure: Before moving on, celebrate your success!
(Note: The e-Science program does not cover creation nor evolution so all families may participate. The focus of the program is on how to launch the rocket, build the robot, use a microscope, take measurements and data, etc.) YAY!
Many people have touched on different aspect of this program, so please, go check them out by either
clicking here
or clicking on the image below