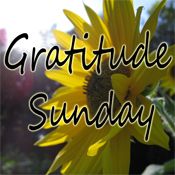 Sunday's heart felt tradition. A time to slow down, to reflect, to be grateful.
Here are some things I am grateful for this week:

1. pancake breakfasts, loved by all.

2. Prince Charming knowing me well enough to know I have wanted to try plantains for a long time

3. Little Prince learning to cruise around on his own.

4. A little Princess who absolutely adores her baby brother.

5. Little Prince who is sweet and jolly even though he is hot and sweaty.

6. One last visit with friends one last time before we move.



7. Two Princesses who love to spend all their time.


8. This sweet face greeting every day.