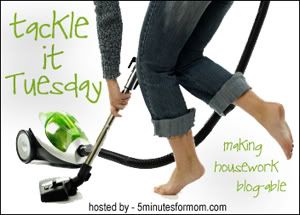 My Tackle It Tuesday
was tough this week and it is an absolute shock I got it done. Princess Mag-pie is superglued to my arms all day long as she is teething and cranky. But I managed to get her to sit in her car seat and watch me while I did this. I don't know how I managed it, but it was a blessing to have some time with no baby in my arms.
Anyway, we are getting a new couch after Christmas. We have it on layaway and I can't wait to see it. But the living room needed to be changed around in order to get the couch and love seat to fit. And I have been getting irritated by the sun shining on the television when I am cuddling Princess Mag-pie during the day. So, today, I moved everything around. When we get the couch and loveseat, I will remove the playpen and the chair and the couch will go under the window and the loveseat will go under the pictures. And for now, it is finally cleaned again (again an impossible task these days) and it looks open.
BEFORE:
AFTER:
BEFORE:
AFTER:
BEFORE:
AFTER:
And a bonus pic of the cutie who is keeping my hands tied these days.